Salad dressing is added to salads to increase taste and flavour. Rather than eating raw vegetables and fruits in a salad, you can add a little dressing to make the salad more delicious and appetizing. A salad dressing is similar to adding sauce to freshly cooked meat. You add a salad dressing to a freshly prepared salad full of fresh ingredients. You get the extra tangy taste when a salad dressing is added. There's is a wide range of salad dressings, from the popular Italian and French Salad Dressings to the Thousand Island Dressings. Italian DressingIn Italy, where salad is a common side dish, the dressing is simple, containing olive oil, vinegar, salt and black pepper. What is known as Italian Dressing in the United States is rather more involved. The ingredients are oil, lemon juice, vinegar, herbs and spices, seasoning, onions and bell peppers.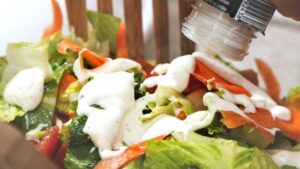 French Dressing
French Dressing, a version of the classic Vinaigrette, has different ingredients in various countries. Commonly, recipes are based on olive oil, lemon juice, garlic, mustard and wine vinegar.
Mayonnaise Dressing
Mayonnaise and dressings incorporating mayonnaise are popular in supermarkets and restaurants. The traditional recipe for basic mayonnaise is egg yolks, vegetable oil, seasoning, vinegar and sometimes, mustard and lemon juice.
Thousand Island Dressing
Fast food outlets are very fond of serving Thousand Island Dressing. The tangy product was inspired by a Russian salad dressing and contains mayonnaise, pickles, onions, ketchup, bell peppers and olives.
Tahini
Tahini is a common sight in Arabic countries and Turkey. It's a paste obtained from ground sesame seeds and is a staple ingredient for hummus. When mixed with lemon juice, salt and garlic, it is a sauce that is suitable as a dressing.
Green Goddess Dressing
Green Goddess Dressing was the invention of a hotel chef in San Francisco in the 1920s. It has a very distinctive flavor and is made from mayonnaise, lemon juice, tarragon, pepper, anchovy, sour cream, parsley and chives. There is also a vegetarian version and a vegan product that uses Tahini. Keen cooks may want to experiment with their own recipes. One of the biggest success stories of recent years has led to millions of dollars being raised for charity.
Newman's Own Salad Dressings
The veteran actor Paul Newman started his charitable company, Newman's Own, with the sale of his salad dressing range. The bottles are a familiar sight on supermarket shelves and benefit Newman's own charity, which helps very ill children. So, by buying the bottled Newman's Own salad dressing from your supermarket, you can add a delicious flavour to your salads and help seriously ill children at the same time. Isn't that the best thing ever? Think about the help you are giving to sick children, the next time you are adding one of these salad dressings on your salad.