Chicken Soup for the Pet Lover's Soul, or Chicken Soup Dog Food, as it's more commonly known, is a premium dog food made by Diamond Pet Foods. They have both dried and canned foods and they offer foods for adult dogs, large breed adults, large breed puppies, overweight dogs, puppy food, and food for senior dogs. Most dog food rating sites consider Chicken Soup for the Pet Lover's Soul, in its various formulations, to be a very good dog food.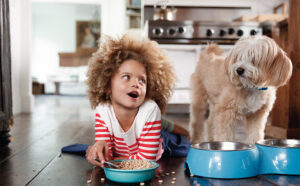 Adult Dog Formula
Looking at Chicken Soup's Adult Dog Formula, it has 24 percent protein and 14 percent fat. These amounts meet nutritional recommendations for adult dogs. There are 336 calories per cup in the food. These figures are not as high as some grain-free super premium dog foods, but they are more than adequate for most dogs unless your dog is participating in the Iditarod or is an active hunting dog, for example, and might need much higher energy levels. In terms of ingredients, the first four ingredients in the food are meat proteins:  chicken, turkey, chicken meal, and turkey meal. This is usually considered to be very desirable as it indicates that, by weight, these are the predominant ingredients in the food, at least before cooking. Of course, if your dog has any kind of allergy to chicken or poultry, this food won't work for him.
The formula also has duck, salmon, and ocean fish meal further down the ingredient list.  In terms of fat, it has a named fat (chicken fat) which is much preferred to an unnamed fat source.  The food also contains the pre- and probiotics dried chicory root and dried Lactobacillus acidophilus fermentation product, dried Lactobacillus casei fermentation product and dried Lactobacillus plantarum fermentation product as well as other fermentation products. And, it contains various ingredients for antioxidants such as cranberries and blueberries. Critics will notice that Chicken Soup for the Pet Lover's Soul is not grain-free. In fact, it contains whole grain brown rice, oatmeal, millet, and white rice, as well as potatoes (another carbohydrate). The grains in the food may make some people steer clear of Chicken Soup if they are seeking a grain-free food. However, there are really no studies to show that a small portion of grains in dog food are harmful to dogs. If your dog is not allergic to these grains then there should not be a problem. There is no corn in Chicken Soup for those who worry specifically about avoiding corn; and there is no wheat. Chicken Soup does contain rosemary extract for those who worry about a connection between rosemary and seizures in epileptic dogs. But it is very hard to find any dog food these days that doesn't contain rosemary.
Chicken Soup meets the AAFCO nutrient profiles for maintenance.
Other Chicken Soup formulas have similar contents. The formula for puppies has a higher protein level (28 percent); the formula for overweight dogs has a reduced fat content (6 percent). Diamond Pet Food makes many well-known brands of dog food today such as Taste of the Wild, Solid Gold, and others, as well as their signature Diamond brand. Kirkland dog food, sold by Costco, is also made by Diamond. Chicken Soup is another in their line of foods. In the past Diamond has come under fire because they have had some recalls due to aflatoxins in their dog foods but these problems were several years ago. Their foods are very popular and they have not had any significant problems in recent years.